APPOINTMENTS & ENDORSEMENTS
Wonder Women Association of Pakistan
Wonder Women "Goodwill Ambassador" for UAE & Canada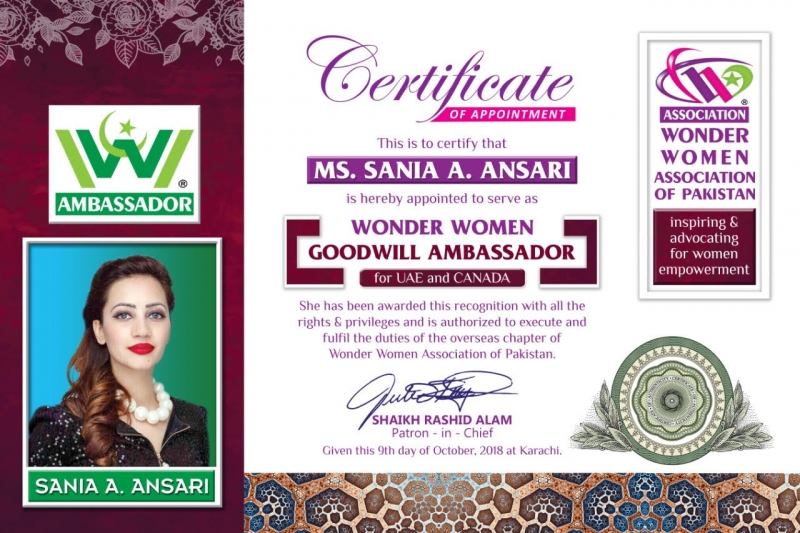 The mission of the Wonder Women Association is to recognize and to support women of all ages as they strive to achieve their fullest potential. We intend to promote the formation of business, professional and social relationships and help women cultivate networks in national & International market place.
Our goal is to mentor the next generation of role models and encourage women anywhere in Pakistan to come forward with a sense of status, achievements and success by conducting themselves in a manner that is the living epitome of inspiration.
Our goal is to provide communication, promotion and collaboration among the hundreds of organizations working across the world that are focused on the capacity development, image building and welfare of the women.
Our vision is to improvise the general perception and expand the horizon of women in support of the empowerment, professional and personal success including induction into the "Wonder Women of Pakistan Hall of Fame"
In Pursuance of our objectives, the association is committed to acknowledging the priceless contribution of notable women, their struggles, their devotions and their beings.
We will extend our professional expertise and assistance to develop their personal brand and highlight the contribution of inspiring women at national and international level. We will continue to support our women and raise them to shape a new future for themselves.
Wonder Women Association of Pakistan
 Board of Director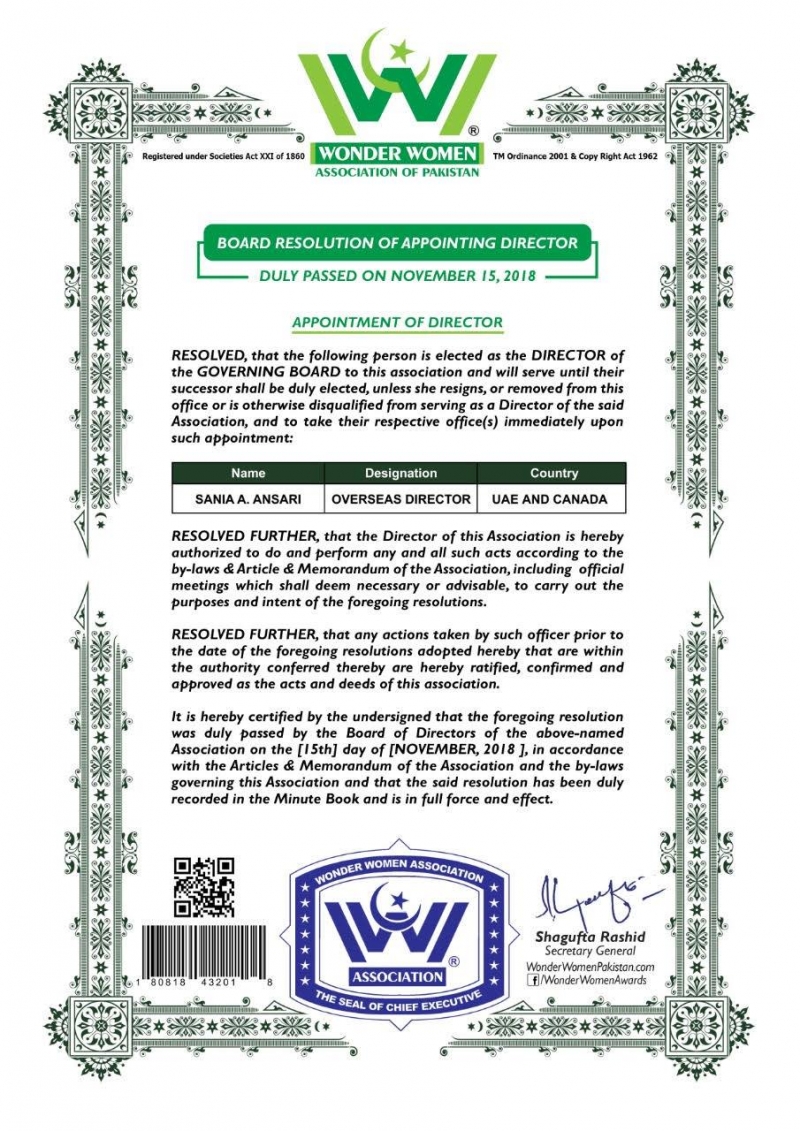 H.E. Ms Sania A. Ansari, Official Letter of Wonder Women Pakistan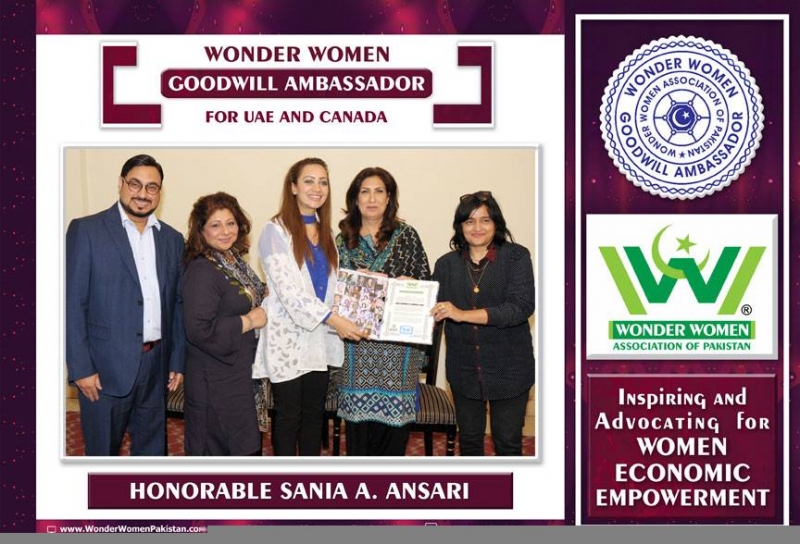 International Youth Ambassadors Foundation
 Youth Ambassador for Canada & United Arab Emirates
H.E. Ms Sania A. Ansari
International Youth Ambassadors Foundation is a non-profit organization with a global vision which aims to enhance the youth's involvement across their societies and amongst themselves, through its adoption of the 17 SDGs as a reference and base for the youth's work and accomplishments.
IYAF's four main programs are:
-Model Conferences, which targets diplomacy, youth debating and resolution making.
-Community development, which aims to address the societies needs through the SDGs with targeted workshops and awareness campaigns
-Youth Ambassadors, which serves to create a global network of youth innovators and models and give them and others a platform which can help them inspire and build on their ideas and aspirations and Strengthen networking between youth leaders and all sectors around the world.
-Youth entrepreneurs: Training and supporting young people to create entrepreneurship projects.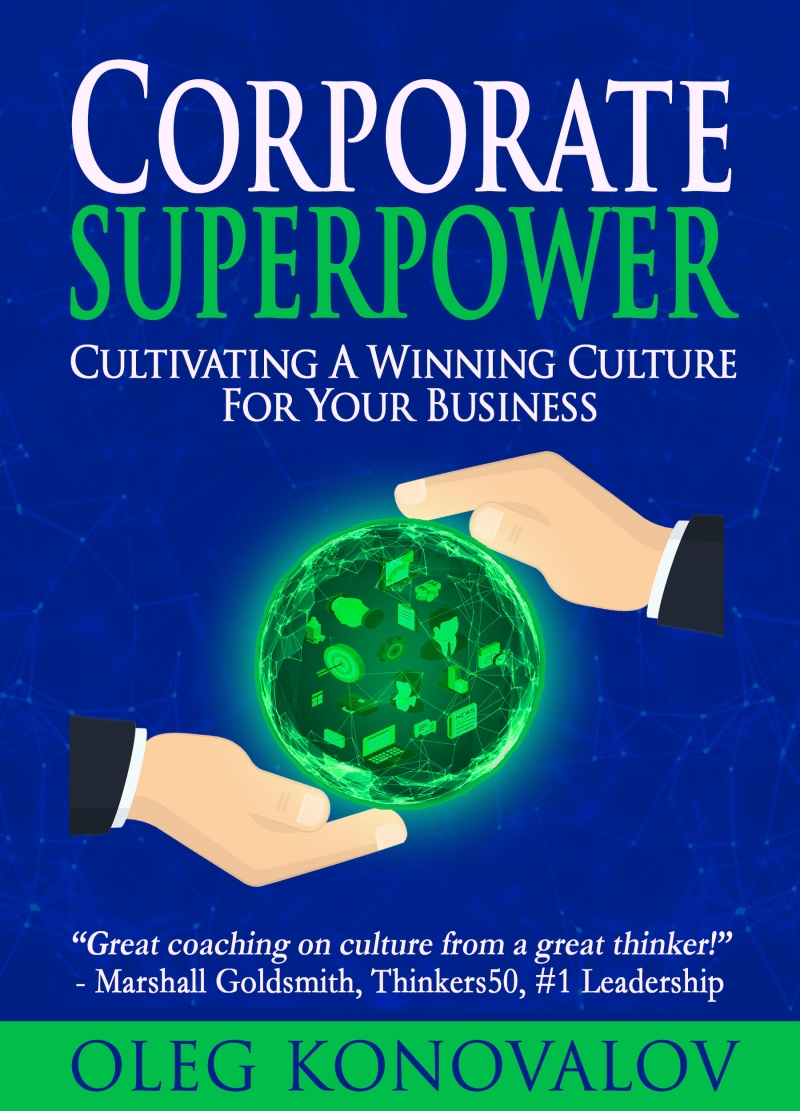 "Dr Oleg Konovalov offers a new word in culture management and unlocking potentials for the XXI century businesses. In his outstanding book, Oleg sets new standards of understanding corporate culture as the main source of inner energy and critical metaphysical resources which define sustainable development and long-term success. The offered discussion exceeds patterned thinking, yet practical and appealing. One of the best books of operating culture." – H.E. Ms Sania A. Ansari
H.E. Ms Sania A. Ansari had the honour to endorse this amazing book called, "Corporate Superpower: Cultivating A Winning Culture For Your Business" by Oleg  Konovalov, in Oct 2017 which was released last week.
The book First readers already named the book A Bible of Culture Management for Modern Leaders. Her kind endorsement stands along with reviews from other world-known experts.
World Leaders Forum Dubai
Global Tolerance Face
H.E. Ms Sania A. Ansari with the President of the World Leaders Forum Dubai, Madame Sabine Balve
We are committed to strengthening tolerance by fostering mutual understanding among cultures and peoples. This imperative lies at the core of the United Nations Charter, as well as the Universal Declaration of Human Rights, and is more important than ever in this era of rising and violent extremism and widening conflicts that are characterized by a fundamental disregard for human life.
International Day for Tolerance 16 November 2017 – at the UN (United Nations)
His Highness Sheikh Mohammed bin Rashid Al Maktoum has called to the World for tolerance between all nations, all religions, all skin colours and all ethnic backgrounds in November 2017 which has inspired Madame Sabine Balve to set up the NEW Global Campaign, "GLOBAL TOLERANCE FACES 2017"
GLOBAL TOLERANCE FACES 2017 is a Global Citizen (Digital Media) Campaign promoting Global Citizen Ship, ONE People ONE World. Peaceful Coexistence for a Sustainable World in Peace founded by Madame Sabine Balve, who is also Founder and President of WORLD LEADERS FORUM DUBAI.
Global Urban Thinker's "Top 100" supporting UN – SDG (sustainable development goals) plus Habitat 3. Recognized by UN, WORLD URBAN CAMPAIGN as a NEW Creative Urban Solution for the City, We need 2050 when our planet will have 9,1 billion people.
https://globaltolerancefaces.com
World Youth Summit For Peace
Goodwill Ambassador and Under-Secretary-General for Entrepreneurship Affairs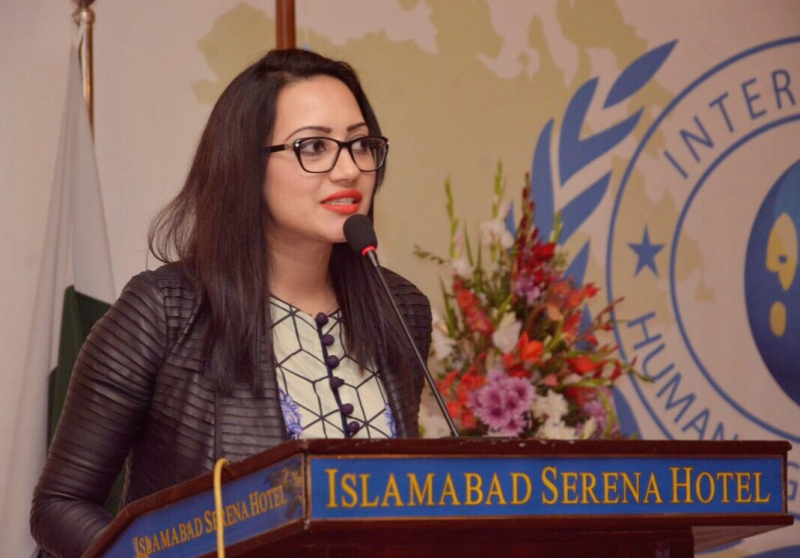 H.E. Ms Sania A. Ansari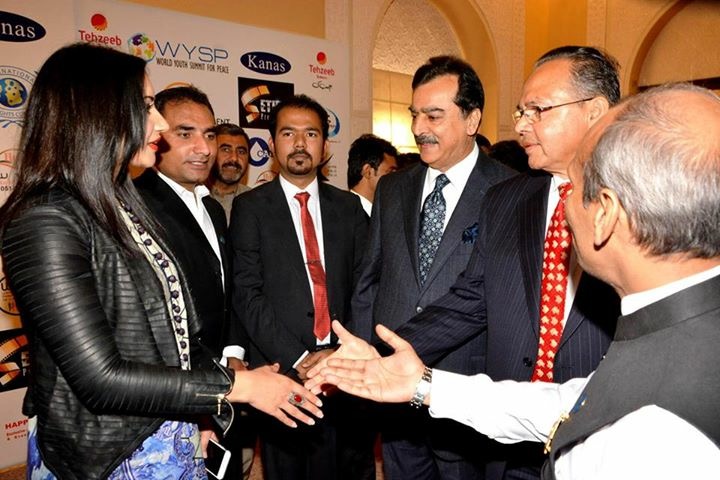 H.E. Ms Sania A. Ansari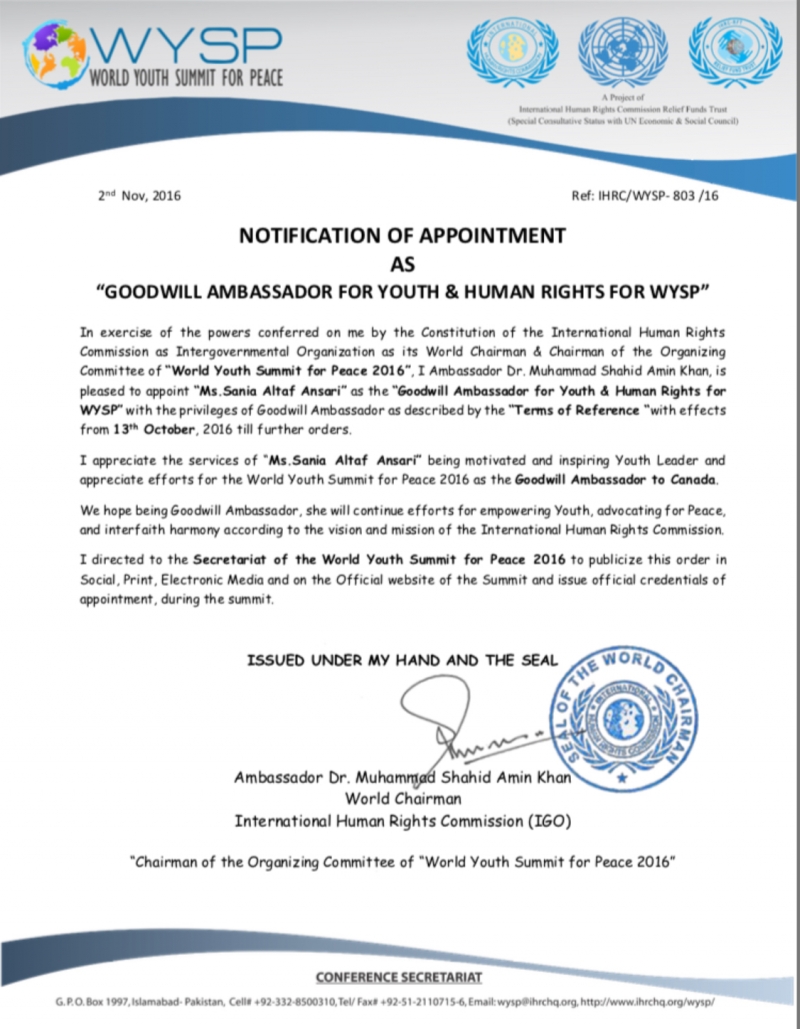 United Refugee Green Council
Ambassador At Large Canada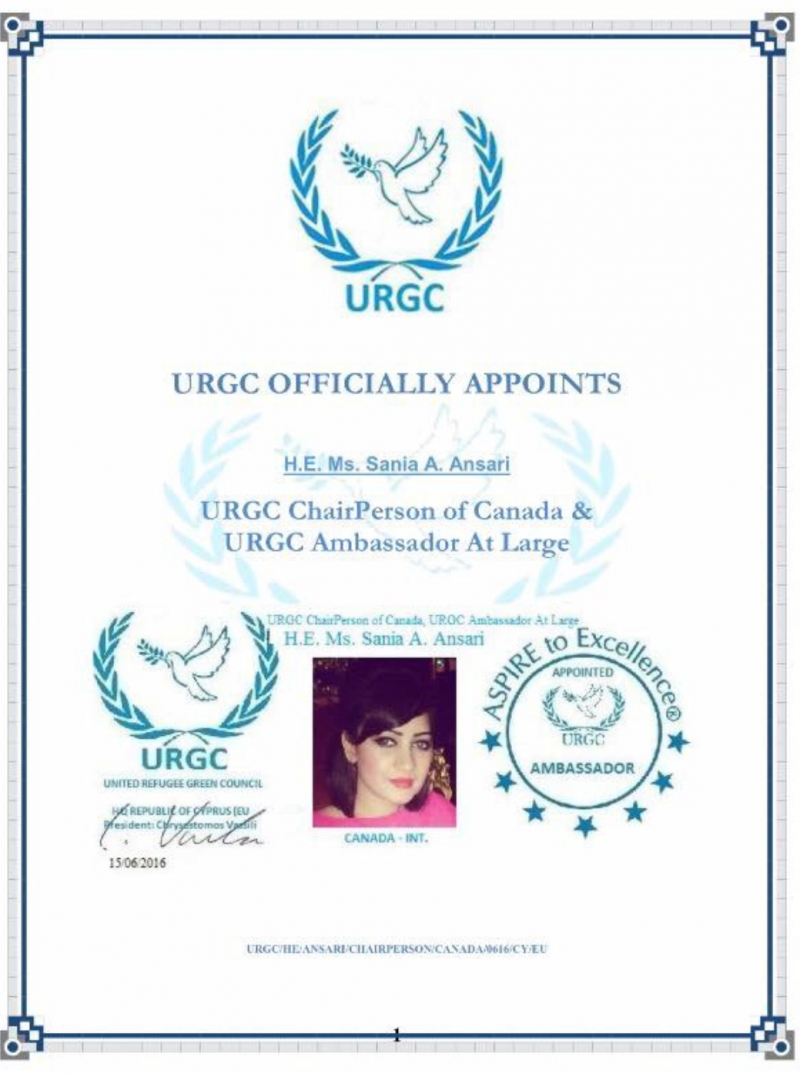 The URGC (United Refugee Green Council) works with the International Human Rights Commission, United Nations as well as government agencies around the world to help address the refugee crisis and improve the lives of thousands of people around the world.
Our mission is to facilitate the creation of cooperative networks and consult to bring about economic green development programs to increase opportunities for refugees, restore human rights and create sustainable development programs.
URGC Canada thinks holistically and provides long-term sustainable economic green solutions that provide housing, schools, healthcare, social and socioeconomic development to refugees in the resettlement process as well as providing protection to women and children who have become refugees. The organization also provides similar solutions to refugees who are not able to resettle back to their homeland by helping them become self-sufficient in housing, education, health and food supply.
URGC helps the hosting governments and aid relief agencies by advising them on ways and means to eliminate unnecessary costs which it believes is the only solution to help reduce refugee numbers and to restore independent living to refugees and other displaced people.
As the Chairperson and President URGC Canada, H.E. Ms Sania A. Ansari provides leadership to the Board of Directors and help guide and mediate Board actions with regards to organizational priorities. She is also involved in strategic planning and facilitates decision making for the board members. As the primary public figure for the organization in Canada, she represents and works to further URGC's mission at all times.
International Human Rights Commission
Goodwill Ambassador for Youth and Women Empowerment- Canada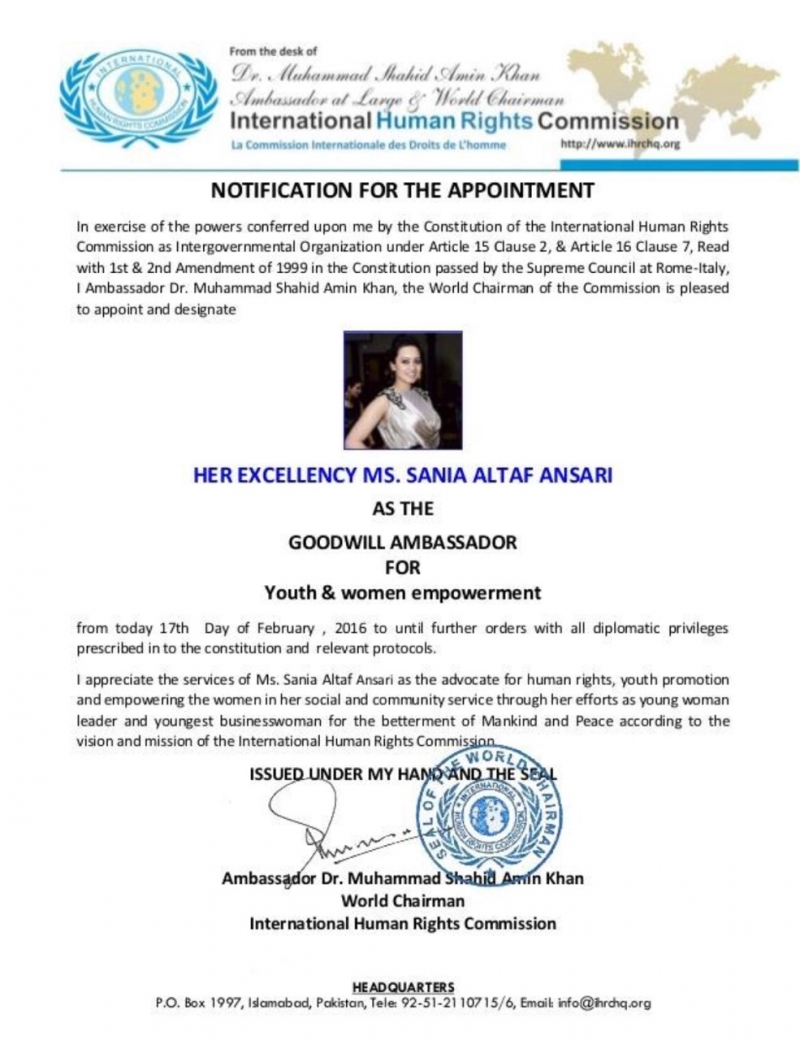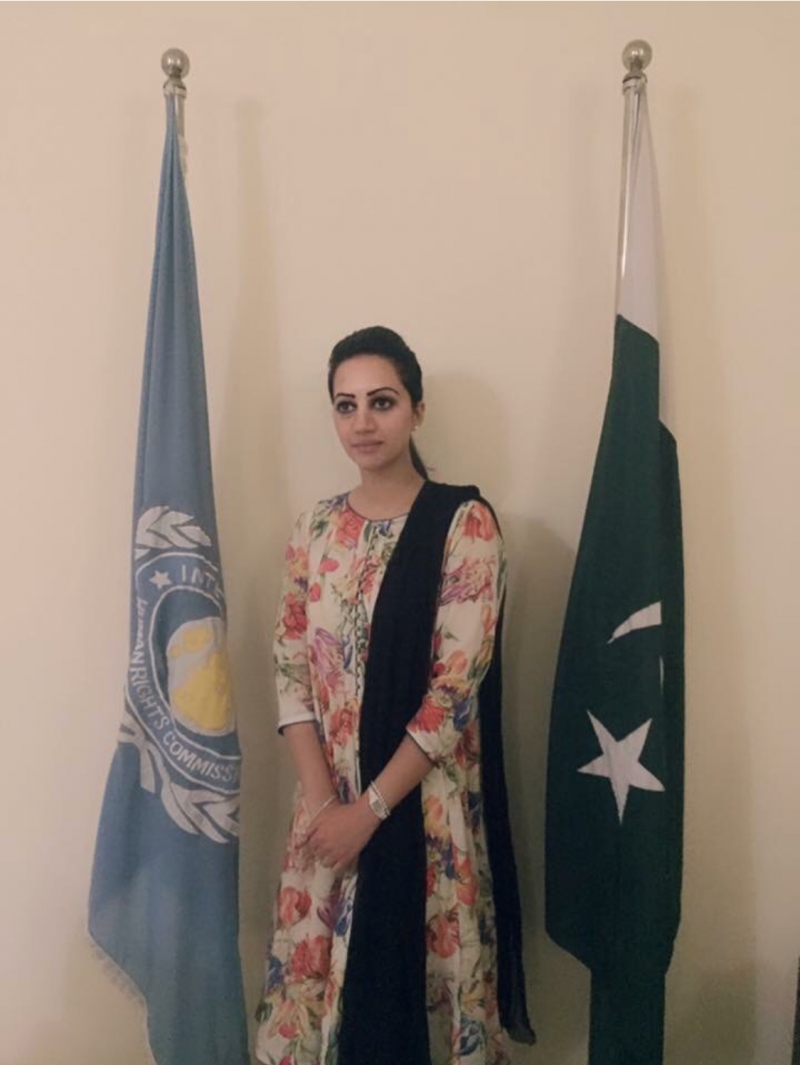 H.E. Ms Sania A. Ansari
The International Human Rights Commission was founded by seven organizations during the conference of their leaders, held at London on 10th of December 1988, with the objective of creating the international network for the protection of Human Rights.
The International Human Rights Commission has its official and diplomatic representation in 75 countries with more than 8500 members around the world. Until March 2013, over 2250 NGO's from different countries became members of the Commission. The Commission also provides its services to the United Nations, European Union, Organization of the Islamic Conference, and member states of UN according to the "UNIVERSAL DECLARATION OF HUMAN RIGHTS" passed by United Nations on 10th of December 1948. Its role is to develop the culture of peace and religious and political harmony and tolerance around the world.
The IHRC has entered into reorganization phase through the Relief activities and assistance programs of IHRC run by the "IHRC Relief Fund Trust International" which is recognized by the Government of Pakistan.
The Committee on Non-Governmental Organizations of the United Nations Economic and Social Council granted the "Consultative Status" for IHRC-RFT on 16th February 2016.